Our franchises
We are world leaders in advanced wound management, orthopaedics and sports medicine technologies and solutions.
Overview
The franchise model is designed to ensure that we have subject and market experts leading specialist teams dedicated to serving the specific requirements of our customers.
We compete in global markets worth around $43 billion, which are driven by long term trends and were growing at approximately 4% annually prior to 2020 and the impact of COVID.
Advanced Wound Management
Smith+Nephew's Advanced Wound Management franchise vision is to continually shape what is possible in wound care. Through our extensive portfolio, designed to meet broad and complex clinical needs, we help healthcare professionals solve the challenges of preventing and healing wounds.
In Advanced Wound Care (AWC) our portfolio includes products that are designed to manage exudate and infection, protect the skin and prevent pressure injuries
In Advanced Wound Bioactives (AWB), our products provide a unique approach to debridement, dermal repair, and tissue substitutes.
In Advanced Wound Devices (AWD), our portfolio includes both traditional and single-use Negative Pressure Wound Therapy systems designed to help improve healing outcomes in chronic wounds, prevent surgical site complications and prevent pressure injuries.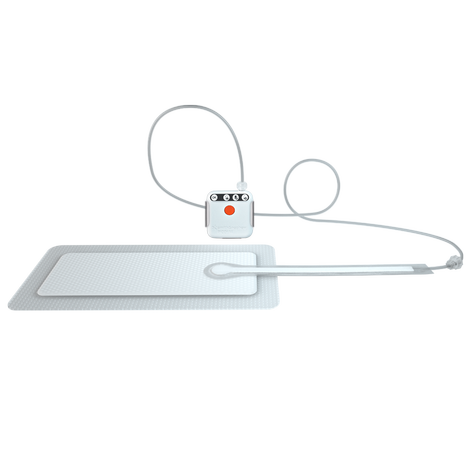 Orthopaedics
Smith+Nephew's Orthopaedics franchise includes an innovative range of hip and knee implants used to replace diseased, damaged or worn joints, robotics-assisted enabling technologies that empower surgeons, and trauma products used to stabilise fractures and correct bone deformities.
Our Hip and Knee Implant portfolio includes products made from OXINIUM, an advanced load bearing technology created through a proprietary manufacturing process. We believe that OXINIUM exhibits unique performance characteristics due to its hardness, low-friction and resistance to roughening and abrasion.
In Knee Implants, Smith+Nephew's specialised systems include leading products for total primary replacement and revision, as well as partial and patellofemoral joint resurfacing procedures. The portfolio includes cemented and cementless systems and we are the only company to offer both options in total and partial knees implants in the US. Our Hip Implants portfolio offers a full breadth of stems to address global philosophies, revision options and an advanced Dual Mobility System featuring OXINIUM. Our Hip and Knee portfolio is supported by surgical and digital technologies including the CORI Surgical System, a CT free and easily portable robotics platform.
In Trauma & Extremities we offer leading products including plating systems for bone repair, hip fracture systems, external fixator devices and a shoulder replacement and upper and lower extremities portfolio.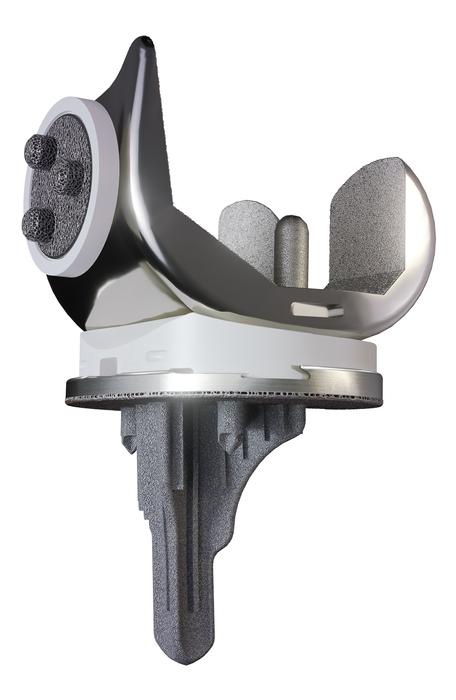 Sports Medicine + ENT
Smith+Nephew's Sports Medicine + ENT franchise operates in growing markets where unmet clinical needs provide opportunities for procedural and technological innovation. We have a rich history of product development, and our technologies, instruments and implants enable surgeons to perform minimally invasive surgery of the joints, including the repair of soft tissue injuries and degenerative conditions of the shoulder, knee, hip and small joints.
In Sports Medicine Joint Repair (SMJR) we market products for shoulder repair, including Rotator Cuff Repair and instability repair, two of the most common sports medicine procedures, and provide surgeons with extensive options for knee repair.
In Arthroscopic Enabling Technologies (AET) our products facilitate the practice of arthroscopic surgery and include connected surgical towers for the operating room, high definition imaging systems and surgical systems that enable surgeons to remove soft tissue and control bleeding in a variety of arthroscopic procedures.
In Ear, Nose & Throat (ENT) we provide low temperature technologies to remove tonsils and adenoids and in-office solution for placement of tympanostomy or ear tubes.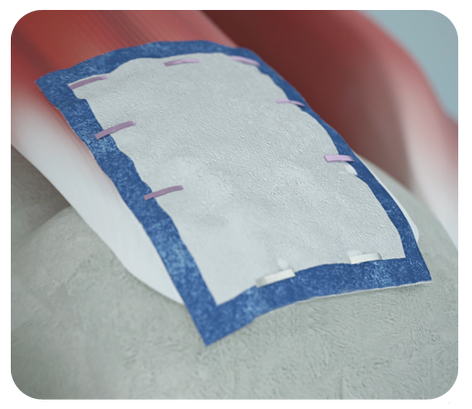 Our Marketplace
Smith+Nephew competes in global markets worth around $43 billion, which are driven by long term trends and were growing at approximately 4% annually prior to 2020 and the impact of COVID.
We are the second largest global Advanced Wound Management business in terms of revenue, with the broadest product range.
In the Advanced Wound Care sub-segment we compete with Mölnlycke (Sweden) and ConvaTec (UK). In Advanced Wound Devices, we are the primary challenger to Negative Pressure Wound Therapy incumbent 3M. In our Advanced Wound Bioactives franchise, we have leadership positions in our respective categories.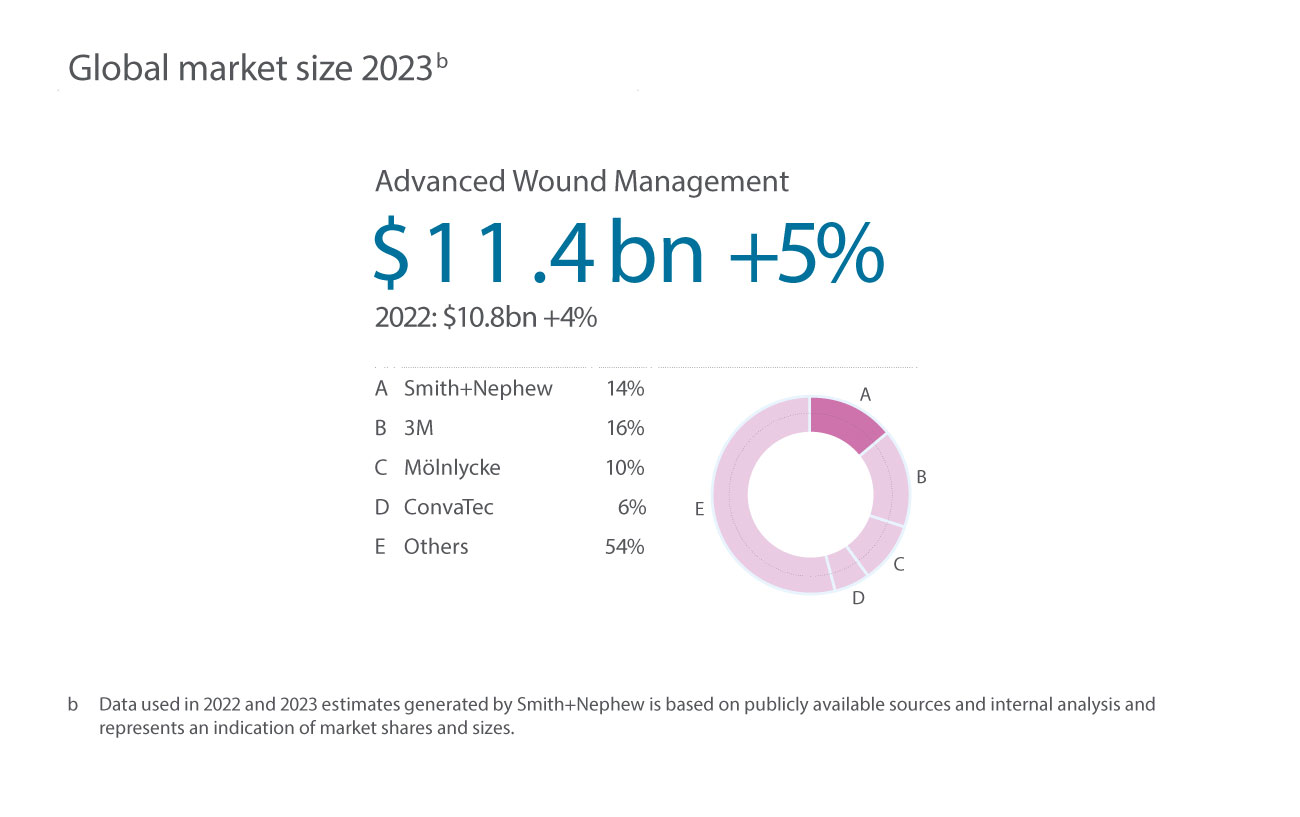 In our Orthopaedics franchise we are one of four leading players, competing against US-based companies Stryker, Zimmer Biomet and DePuy Synthes.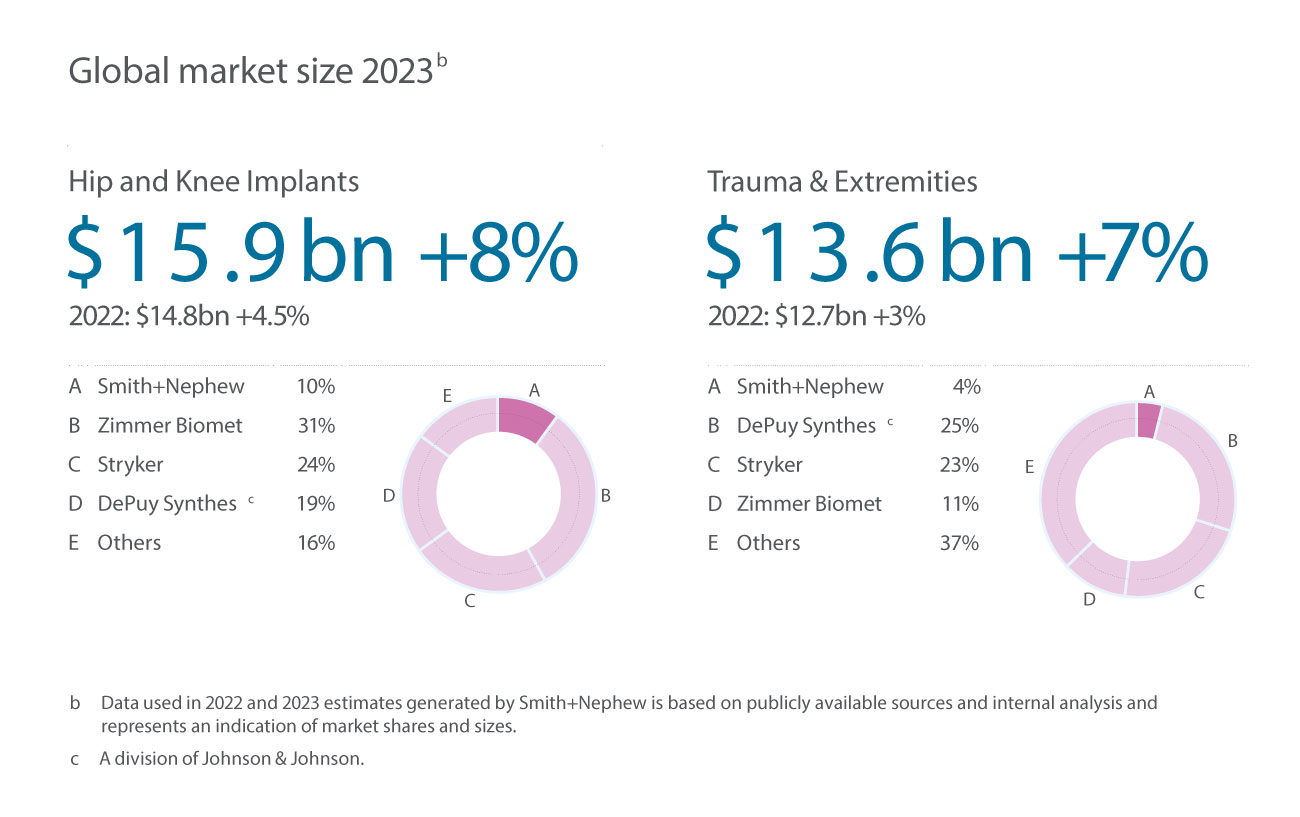 In Sports Medicine, Smith+Nephew holds a leading position behind Arthrex (US), and also competes against Stryker and DePuy Mitek.